Inspired by Sarah sees the World and this weeks #BlogGreatness challenge, I thought I would share my 'list'. Sarah did a list of the countries she's been to, hitting an impressive 20 before she's 30. I've just done my list and was impressed to find that I've been to 16 countries outside of NZ!
1 // Fiji
Our honeymoon was in Fiji and it was the best time. I really want to go back!

2 // Australia
– I have been to Sydney twice and Melbourne once. I would really love to go back and spend a long weekend in Melbourne and really soak up the amazing atmosphere.

3 // England
I have been to England a handful of times, having family there means I've been able to go and stay there for lengthy periods. I always dreamed I would end up living over there – I guess it could still happen!

4 // Scotland
One trip to northern England (where my mum is from) meant we got to cross the border and travel to Edinburgh for a day – it's really stunning.
5 // France
I've been to France twice now and loved it both times. Paris, Versaille and Marseille are my favourite spots, probably because I've been to them a couple of times each.

6 // Switzerland
We spent a few nights in Geneva, Switzerland while making my way from France to Italy with my Dad and Grandmother. While we didn't get out and see much, I really enjoyed the stunning landscape.

7 // Spain
Spain is my favourite part of Europe, specifically Barcelona. I've visited Palma de Mallorca too, the capital of the Balearic Islands which was amazing! We only had a few hours in the city as we were on a cruise excursion but what we saw was beautiful.

8 // Italy
The country in Europe that I have been to the most cities is Italy. Venice, Genoa, Rome, Cefalu (sicily), Palermo (sicily), Milan, Pisa, Bari, Naples… Wow – I'm impressing myself here.

9 // Greece
Our most recent trip to Europe we managed to get across to Olympia and Athens. Athens was our last European city, and we definitely saved the best for last. I loved the history and could wander the streets for days.

10 // Tunisia
Similar to Palermo, we stopped here on a cruise for a short amount of time. I managed to meet a camel here which I thought was totally appropriate!

11 // Turkey
Ephesus and Istanbul were ticked off our list when we visited Turkey. I adored Istanbul – we had only eight hours in the city and it definitely wasn't long enough! My favourite part of the city was the Basilica Cistern, followed by our boat trip down the middle of the Bosphorus seeing Asia and Europe in one turn of the head.

12 // Croatia
We walked around about half of the wall in Dubrovnik before we got too sweaty for our own good. It was gross, I'll admit, but totally worth it. Croatia's sea is the clearest I've seen and I would jump at the chance to visit it again.

13 // Vatican City
Ok so maybe this isn't a real country but shhhh. When we staying in Rome our hotel was literally across the road from the Vatican City entrance. The pope didn't come for dinner though.
14 // Dubai
This is what I call a whirlwind trip! We were in Dubai overnight on transit. After stuffing ourselves at 11pm dinner, we took an hour to go to see the Burj Khalifa (Tallest Building in the World), the Burj Al Arab (the famous sail boat looking hotel) and we travelled to the top of the Palm Jumeirah Island to see the Atlantis, The Palm hotel – which was breathtaking. This was at about midnight and it was so humid it fogged up our camera lense – crazy!

15 // USA
A family reunion when I was 12 in Las Vegas? Uhhh yes! I don't remember too much of this trip, apart from eating breakfast at a cafe every morning, seeing the Las Vegas lights at night from a car, and of course a trip West to Disneyland.
16 // Mexico
Following on from our family reunion and visit to California, we had a day trip across the border to Mexico. I really don't remember much apart from that there was beautiful jewellery being sold on the streets – everything was $2!
This was so much fun to write and reminice on past travels. Makes me want to pick up and travel again..
Whats your number?
Laura x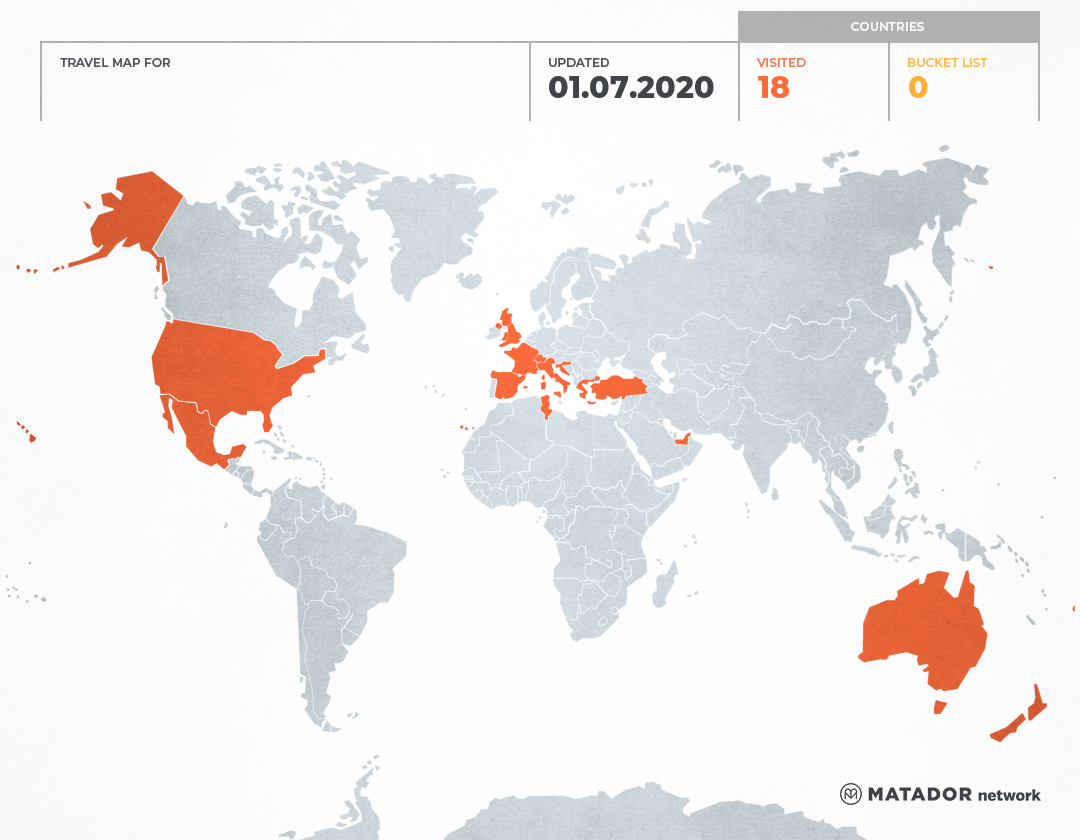 Laura has been to: Australia, Croatia, Fiji, France, Greece, Italy, Mexico, Spain, Switzerland, Tunisia, Turkey, United Arab Emirates, United Kingdom, United States.
Get your own travel map from Matador Network.